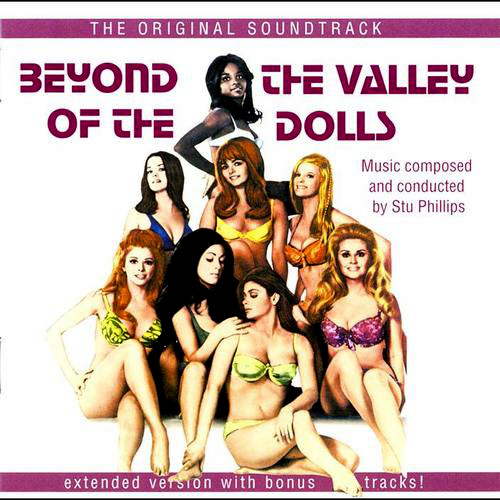 The original vinyl LP cover art.Strawberry Alarm Clock contributed two new songs to the soundtrack of the 1971 Russ Meyers movie Beyond The Valley Of The Dolls. The songs are "Girl From The City" and "I'm Comin' Home", both with latter-era vocalist Paul Marshall. ("Incense And Peppermints" is also in the movie, though not on the soundtrack album.) Besides Strawberry Alarm Clock, the album has songs by the Sandpipers, and by Stu Phillips sung by Carrie Nations, among others.
The soundtrack album for Beyond The Valley Of The Dolls is readily available from new and used vinyl LP vendors, and an expanded CD version with bonus tracks is in print and widely available. "Girl From The City" is in fact available on the Japanese bonus-track version of the Good Morning Starshine CD; however, "I'm Comin' Home" is only available on this soundtrack, so a copy of Beyond The Valley Of The Dolls on LP or CD is necessary for Strawberry Alarm Clock collectors or completists.
Sadly, Beyond The Valley of The Dolls is the last project Strawberry Alarm Clock was involved with until their 21st-century resurgence; soon after this the fractured band finally split up for good, at least until some 1980s reunion tours.
Track listing
The vinyl LP has fewer songs, in a different order and with different titles on the CD issue; listed here is the CD version with bonus tracks:
"Main Title Sequence"
"Find It"
"Come With The Gentle People"
"Dinner Party"
"Girl From The City" – by Strawberry Alarm Clock
"I'm Comin' Home" – by Strawberry Alarm Clock
"Ampersand"
"Sweet Talking Candyman"
"In The Long Run"
"Back Stage"
"Hang Cool Teddybear!"
"Late Night Visit"
"Look On Up At The Bottom"
"Find It (reprise)"
"Randy Throws In The Towel"
"I Need You So Very Much/Checkmate"
"Let The Games Begin"
"Methinks You Remind Me Of Certain Things?"
"I Am Superwoman!"
"Murder On The Beach"
"Gun Stroke"
"Beyond The Valley Of The Dolls Theme (reprise)"
"Sweet Talking Candyman" [alternate take]
"Come With The Gentle People" [alternate take]
"Look On Up At The Bottom" [alternate take]