In 1968, a band calling itself Strawberry SAC, featuring Greg Munford (who'd sung lead on Strawberry Alarm Clock's "Incense And Peppermints") recorded twelve songs for a planned album on All-American. Two songs ("In Relation" and "Merry Go Round") were pressed onto a rare promo DJ 7″, but the rest of the recordings were only released in 2001, on a vinyl LP from Akarma credited not to Strawberry SAC but to Crystal Circus, and titled after the a-side of that promo 45: In Relation To Our Times.
Greg Munford was never a member of Strawberry Alarm Clock, but had by chance sung lead on the track that would be a fluke hit, one totally unexpected by the band, and by far their biggest success. The band's manager/producer Bill Holmes, always looking to exploit a situation, put Greg Munford in a new band, shamelessly dubbed "Strawberry SAC".
Some sources (like the usually spot-on Richie Unterberger) mention how Strawberry SAC featured a bunch of the same members as Strawberry Alarm Clock, but this is untrue: only Greg Munford could be classified in this category, and even he was not technically in the Clock at any time.
Members of Crystal Circus
According to the rather mystifying liner notes on the Akarma release, the members of Strawberry SAC (well, Crystal Circus) were:
Greg Munford – Vocals, keyboards
Gary Solomon (a.k.a. Gary Solo) – Vocals, saxophone, flute, clarinet
Bob Feldman – Vocals
Jack Bielan – Keyboards
Nick Dunman – ?
Kaufman – ?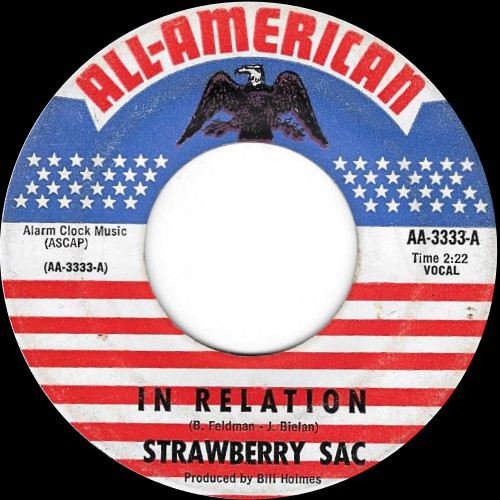 According to commenter Matthew David Hoffman, Nick Dunman didn't really exist (but was based on Norma Dunman, a song writing friend of Gary's) while 'Kaufman' refers to Rose Kaufman, Jack Bielan's mother who wrote the lyric to "Don't Say I Didn't Warn You". Hoffman says the other two in the actual band (and the photo at top) were Bruce Turner and Terry Rae.
July 2015: A Terry Rae sent private feedback to us to verify that he did indeed play drums on these songs, but didn't leave an email address so we couldn't contact him to verify or ask any follow-up questions.
All-American AA-3333
The promo-only 45, rarely offered for sale to collectors now, featured "In Relation" b/w "Merry Go Round". There are a few odd discrepancies between the label on this record and the liner notes of the 2001 album release:
• The 45 calls its a-side "In Relation", while the album adds the parenthetical "(To Our Times)".
• The 45 lists the song writers of "In Relation" as Feldman and Bielan; the album adds producer Holmes as a writer.
• The 45 lists the song writers of "Merry Go Round" as Solo, Bielan and Dunman; again the LP adds Holmes.
Not only did Holmes' name get inserted as a song writer on some of the songs, but all the songs are published under "Alarm Clock Music" (as on the All-American single).
As for other releases, "In Relation", credited to Strawberry SAC (not Crystal Circus), was released in 2004 on a Varese Fontana compilation called Garage Rock Classics. That compilation is not too hard to find, and the Akarma LP can be located by the dedicated collector with a little patience (and maybe a little extra cash). The original promo 7″ 45 will be much harder to come by, but again can be owned by the serious and committed hunter. (On March 16, 2010, a copy sold on eBay for $246.77 USD.)
The music
The music is often described as closely resembling Strawberry Alarm Clock's, but I disagree. It's good, and collects some often-fantastic and absorbing, varied psychedelia, but it doesn't have the inspired snap or stately effortlessness of Strawberry Alarm Clock.
No matter though; Crystal Circus/Strawberry SAC is well worth picking up; it is true that Strawberry Alarm Clock fans are likely to find the shadowy band's music highly enjoyable.
Track listing
Side A
"In Relation (To Our Times)" – 2:20
"Don't Say I Didn't Warn You" – 2:27
"Girl Like You" – 2:10
"Sittin' And Thinkin'" – 2:04
"Twisted Conversation" – 3:32
"Merry-Go-Round" – 3:21
Side B
"Circus And Zoo World" – 2:44
"Never Again" – 3:10
"Castles (In The Sand)" – 2:54
"Sweet High" – 2:45
"The Difference Between Us" – 2:20
"The World Of Seas And Rivers" – 4:28